While gutters may not seem like the most important factor of your home, they play a major role in ensuring your home is protected from the range of precipitation experienced by Illinois homeowners. Without gutters, rain and snowmelt could cause damage to a home's siding and foundation. Over time, this can lead to expensive repairs that could have otherwise been avoided.
Many older homes in the area were built without gutters, but it's vital that you implement a gutter system that will prevent moisture runoff from damaging the home and foundation. By adding a gutter system to your home, you will not only prevent foundational damage, but you will also prevent water runoff from forming a groove line in your lawn at the roofline. While preventing a groove line may not be fundamental to the longevity of your foundation, it will allow you to upgrade your curb appeal by planting flowers and shrubs where you once could not.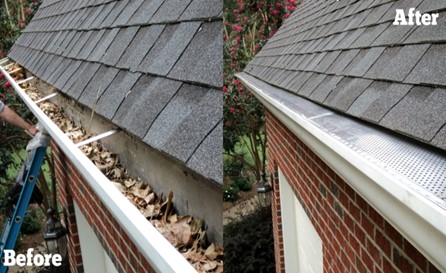 More modern homes are built with a gutter system included, but there will inevitably come a day when that system needs replacement. Minor repairs are doable, but at some point, those repairs compound and become expensive, at which point a completely new system may need to be installed. If an existing system has been problematic for years, there is no use in patching and repairing over and over. It is best to take care of the problem for good by replacing the entire system. New gutter systems from Armoured Exteriors not only wick water away from your roof with up-to-date drainage, but also offer gutter protection to avoid debris that would clog the system. A new gutter system can even add value to your home! Call Armoured Exteriors today to schedule an estimate.